6 Things you need to know in Video Game Photography
6 Things you need to know in Video Game Photography this week
Welcome to the first edition of 6 things you need to know in Video Game Photography this week!
This regular article aims to give you the latest weekly news about in-game photography.
1.  Shadow of the Colossus released to stunning reviews and amazing photo mode
The Shadow of the Colossus remake for PS4 was released a few weeks ago, and the reviews have been overwhelmingly positive.
Shadow of the Colossus is a remake of a PS2 game released by the creator of The Last Guardian and ICO, Fumito Ueda. The original game was ground breaking in it's own way as it created such an immersive and emotionally engaging world for the player. The remake enhances that, and has been called the best ever game remake by some.
We love seeing more games come with photo mode, and this game is no exception. Check out some of the tweets below with captures from Shadow of the Colossus:
When I started playing #ShadowOfTheColossus, I was never expecting to be able to take the kinds of pictures that I did in this tweet.What a magical game and a fantastic job by @bluepointgames to recreate that.Bravo! #photomode #ps4share #PSBlog #virtualphotography @PlayStationUK pic.twitter.com/Vl9g30yyOA

— ghostinthecamera (@ghostinthecam) February 24, 2018
No Trolls under this bridge. #ShadowOfTheColossus pic.twitter.com/85TsaCMos7

— Affonso Solano (@affonsosolano) February 21, 2018
2. Super Mario Odyssey released two new patches with extra photo mode filters
The first DLC for Super Mario Odyssey came out this week, with three new filters for photo mode. 'Luigi's Balloon World' is a free DLC update that adds new costumes and challenges for the players to enjoy.
This is another example of game studios continuing to invest in photo modes for games.
Luigi has arrived!

Download the latest free update for #SuperMarioOdyssey and you can play the brand new mini-game #BalloonWorld – featuring the man himself – after finishing the game. pic.twitter.com/uY0c6PHlmw

— Nintendo AU NZ (@NintendoAUNZ) February 22, 2018
3. Alto's Odyssey released on iOS with in game photo mode
In something fairly new for iOS games, Alto's Odyssey has been released with an in game photo mode. I was at first sceptical about how much diversity in photo's you could get with a platformer. But as the different 'Biomes' of the game are explored there are ample opportunities to take unique photos with visually stunning backgrounds. Another game on the list for in-game photographers to check out!
4. Assassins Creed Origins has released a new 'Discovery' mode for historical tours of Ancient Egypt
In very cool move by Ubisoft, a new 'Discovery' mode has been added with the latest patch for Assassins Creed Origins. In this mode you can take a tour of Ancient Egypt without being attacked. Take a tour of the Sphinx, learn about ancient brewing practices or journey down the Nile. Enjoy your virtual holiday in Ancient Egypt and make sure that you take plenty of photos!
5.  A Player that created a Photo Mode mode for 'The Division' gets permanently banned
A player of The Division has been permanently banned because he built a Photo Mode mod. Apparently the mod could be used to make dark places lighter than intended, so could be used for cheating.
Whoops.

Worth it tho. pic.twitter.com/TbRT7aepFd

— Matti Hietanen (@Hattiwatt1) February 6, 2018
In another bizare twist, the Creative Director of Ubisoft chimed in saying that he will look into the matter and that he loves Matti's work!
Hey Matti, I'll check this out today. Love your work and would like to see more.

— Julian Gerighty (@jgerighty) February 9, 2018
Matti has a keen interest in making Photo Mode mods, and has previously worked with Battlefield 1 and Dark Souls.
Hopefully this all gets sorted out soon and he can keep up the good work!
6. NVIDEA GeForce Now rumoured to be including Ansel photo mode
The entry barrier for high spec gaming has been lowered by NVIDEO GeForce Now, and with Ansel rumoured to be an addition to the offering, game photographers can start to get excited about the possibilities.
Ansel photo mode is a great addition to gaming from NVIDEA as it gives games the ability to add an in-game photo mode when using a high spec NVIDEA graphics card.
Mix this with GeForce Now, an on demand cloud gaming service that gives your low spec computer the power of a GTX 1080 graphics card, and game photographers will have access to another platform of games to take photo's in.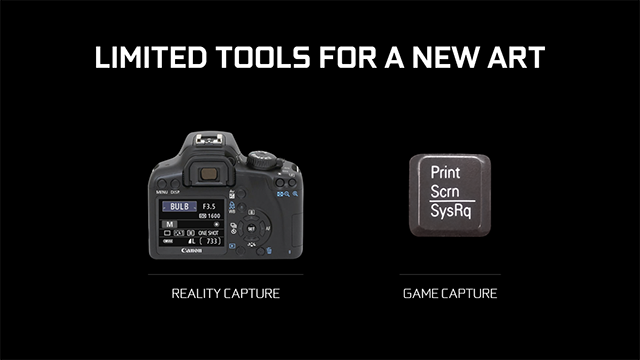 Have a great week!
A little while ago I saw a conversation unfolding on Twitter. The participants were troubled by the difference in appearance...