6 Things You Need To Know In Game Photography News This Week
All the game photography news you need from the last week!
Welcome again to the 6 things you need to know in Game Photography News for this week! We look at 2 new games and a new DLC with photo modes, some crazy invention from Google, a challenge and a tutorial.
1. Yonder – The Cloud Catcher Chronicles coming to Nintendo Switch with exclusive Photo Mode!
Yonder – The Cloud Catcher Chronicles is an award winning open world adventure game that has so far been released on PC and PS4.
In an announcement from the Brisbane, Australia based developer, Prideful Sloth (awesome name!), the game will be largely identical to the PC and PS4 versions, but with a Switch exclusive Photo Mode! There is no release date in the announcement, but it does say "coming soon".
The developers say of the game: "At the heart of Yonder, is a game that delivers a sense of discovery, wrapped in a familiar yet unique adventure. Yonder is a technical and visual spectacle that invites you into the warmth of Gemea.  A land that beckons you home; to a home you are exploring for the first time".
It looks like there will be some great photo oportunities in this game! We are looking forward to seeing them pop up on Instagram and Twitter.
Watch the announcement below!
2. "Surviving Mars" released this week, and includes a Photo Mode!
Surviving Mars, a settlement building game, has been released this week on PS4, XBOX, PC and Mac, and includes a Photo Mode! Take photos of the scenery on Mars, including the surreal looking settlements.
"Surviving Mars is a sci-fi settlement builder all about colonizing Mars and surviving the process. Choose a space agency for resources and financial support before determining a location for your colony. Build domes and infrastructure, research new possibilities and utilize drones to unlock more elaborate ways to shape and expand your settlement."
Watch the trailer below!
3. Assassin's Creed Origins – The Curse of the Pharaohs released this week
We all love Assassin's Creed Origins' Photo Mode, so with new DLC "Curse of the Pharohs" released this week, we should start seeing even more beautiful photos.
This release has a bit more to it than the first DLC "The Hidden One's", and is set 4 years after the main game. From the developer: "Curse of the Pharaohs, the third major expansion for Assassin's Creed Origins, takes Bayek to find a mysterious artifact in Thebes, where he immediately runs into much more than he bargained for. Instead of the mortal and deceitful Order of the Ancients, he finds undead pharaohs materializing in the streets and slaughtering civilians. The Pharaoh's Curse, as the locals call it, likely has something to do with all the grave robbers treating the Valley of the Kings like a strip mine for antiquities, forcing Bayek to hunt down key artifacts linked to each pharaoh in order to put them to rest."
Can't wait to see some photos from this expansion, go and check out the game play below!
4. Google's done gone crazy again – this time with VR
In something closely related to Game Photography News, Google has constructed a rig of GoPro's to capture different 'light fields' to be shown in VR.
In Real Life, light that we see when bouncing off a nearby object tends to shift as we move around. Far away objects seem to stay still though. This gives us a perception of depth, and how close or far away something is. This is an effect that isn't well replicated in VR.
With Googles new camera rig, they are hoping that they can add this light field shifting effect into VR. This will give the user a much more immersive experience, and they will feel more like they are in a 3D space.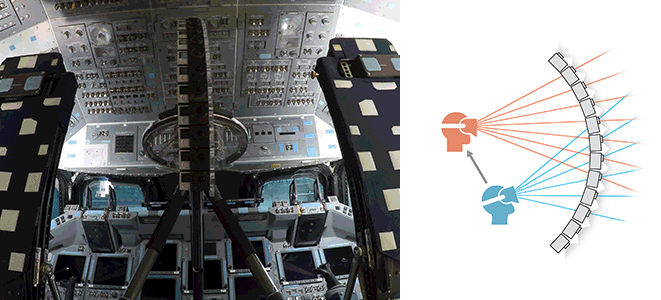 If you would like to know more about this, check out the blog post by Google here.
5. Gametography Challenge is nearly half way through
The Gametographers (@gametographers)  issued a 30 day challenge to all game photographers out there! So far there has been a great response from community, and some impressive photos. This is a great challenge to get involved with, as it will put you out of your comfort zone and help improve your game photography. The Gametographers are also a good source of game photography news, so make sure you follow them and watch for their updates.
Check out the #gametography30 feed on twitter
Hey look a photo from our Facebook page! This week in the world of Gametography, we decided to do something a bit different…we have started a 30 Day Gametography Challenge!!!

What's that you ask? We'll, with this challenge there are daily themes for 30 days. For each day… pic.twitter.com/t9RcH92bl3

— The Gametographers (@gametographers) March 5, 2018
6. A new Game Photography Tutorial!
We have created another Game Photography Tutorial! This one is aimed at  beginner game photographers looking for some Top Tips on how to improve their photography.
The article covers:
The Exposure Triangle
The Rule of Thirds
Change your perspective
Post Processing
Don't Blame your Gear
Here is a teaser of The Rule of Thirds section:
Thanks for reading this weeks Game Photography News! If you have any game photography news you want to know about drop me a line on the contact us page, or on our Facebook, twitter or Instagram accounts.
Catch you next week!
A little while ago I saw a conversation unfolding on Twitter. The participants were troubled by the difference in appearance...